Shakib al Hasan: Left-arm Bangladeshi freak Shakib al Hasan will benefit from bowling with a quick run in the current Indian Premier League as it gives him more control, said his mentor Mohammad Salahuddin.
"With this short run-up, the revolutions for the ball in the air increased a lot. While for him the shape (seam positioning in perfect order while it is traveling to the batsman. And though there is a revolution in the air the seam is not getting scrambled and instead of remaining perfect in the air) is very important and it (seam positioning) is much better now," said Salahuddin.
"That is why he opted for a shorter run-up and this is not new as he is doing it from the last series but probably adapted to it perfectly during the IPL," he said. Adding that the short run-up is proving Shakib much better balance.
"He is also using his arm delivery better and he is gaining a lot of strength from his legs and he can use that behind his bowling," he added.
"Most importantly his drift increased substantially in the recent days but the major focus was on the shape of his ball.
Salahuddin, who has known Shakib since childhood and was a pillar of strength for him. During his ban from the ICC and even designed a training program at BKSP before Shakib's return.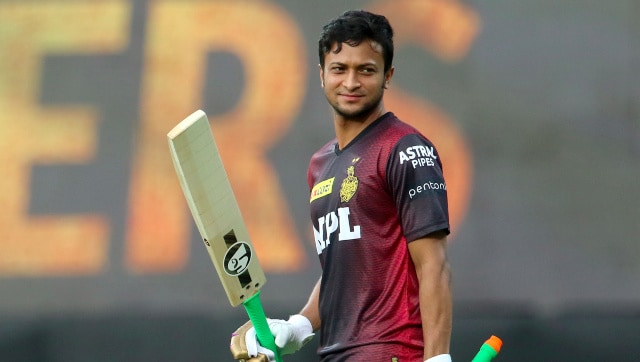 Told Cricbuzz on Thursday that the arm spinner left decided to do a short run. Last series at home against New Zealand and also used it in the IPL.
The spin increased because of the shorter run-up. But now he can use the strength from his body due to his perfect balance," he further explained.
Meanwhile, an official from the Bangladesh Cricket Board confirmed to Cricbuzz that Shakib will fly to Oman on October 15. Immediately after completing his stint at KKR in the IPL final.
Previously, BCB had insisted that they take one last call regarding Shakib's participation in the final after qualifying for two.
The plan is for him to join our team immediately after the final as we have our important qualifying match against Scotland on October 17, "said a BCB cricket official.
Click here: IRELAND vs NETHERLANDS 3RD Match Prediction
Read more about: Aakash Chopra says "The story might just end" in IPL 2021
Visit also: IPL 2021KKR vs DC: Rahul Tripathi's Winning Six Help Kolkata Crush Delhi To Storm Into Final