Angelina Jolie's shoulder tattoo: When Angelina Jolie attended the screening of Eternals with her children, an observant admirer observed that Brad Pitt's birth coordinates were absent from her shoulder tattoo.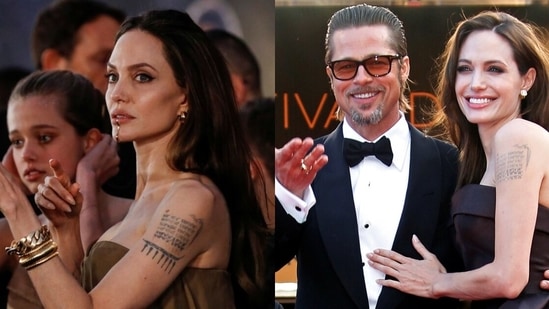 Maddox Jolie–Pitt (20), Vivienne and Knox Jolie-Pitt (13), Shiloh Jolie-Pitt (15), and Zahara Jolie-Pitt attended the premiere of Angelina Jolie's latest Marvel film Eternals with their mother. For the occasion, the actor wore a strapless brown gown.
Her tattoos were well-visible thanks to the attire. While each tattoo has a special meaning for the actress, an observant admirer observed that one tattoo in particular. Which included a mention to her ex-husband Brad Pitt, was absent.
Angelina Jolie's shoulder tattoo: Angelina had previously tattooed Brad and their children's birth coordinates on her shoulder. During the premiere of Eternals, the tattoo was visible. A fan, however, observed that the coordinates of Brad's birthplace were missing from the map.
"Brad's birth coordinates are gone," the user said, posting a photo of the tattoo before and after. While the coordinates aren't visible. It's unclear whether she had the tattoo erased or if it was covered up with make-up for the event.
The coordinates were discovered by fans in 2011, and rumors quickly spread that. Angelina Jolie and Brad Pitt were planning to adopt another child. According to People, shot down the rumors by stating that the tattoo's seventh coordinate was devoted to Brad.
Angelina and Brad met on the set of Mr and Mrs Smith in 2004. The couple dated for ten years before marrying in 2014. In 2016, Angelina Jolie filed for divorce. The former couple is still fighting over custody of their children.
Angelina Jolie was questioned by The Guardian last month if she was concerned about her children's safety throughout the marriage. "Yes, for the sake of my family." "My entire family," she stated, adding that she is unable to speak about the situation due to the custody fight. She added that filing for divorce wasn't an easy decision to take. "It took a lot for me to be in a position where I felt I had to separate from the father of my children," she said.
Click here: Young Haider Ali the courageous adventure-seeker expected to bring the same jazbaa & dileri to the T20 WC

Read more about: Sania Mirza plans to take a break from social media on the day of India vs Pakistan clash: T20 World Cup 2021

Visit also: Apple Launches AirPods 3, 14-Inch & 16-Inch MacBook Pros With M1 Pro and M1 Max Chips: Get India Prices and Specifications