Happy Navratri Day 9: On Maha Navami, the ninth day of Navratri, worshippers worship Maa Siddhadatri, Maa Durga's ninth avatar, and seek blessings for their families and loved ones.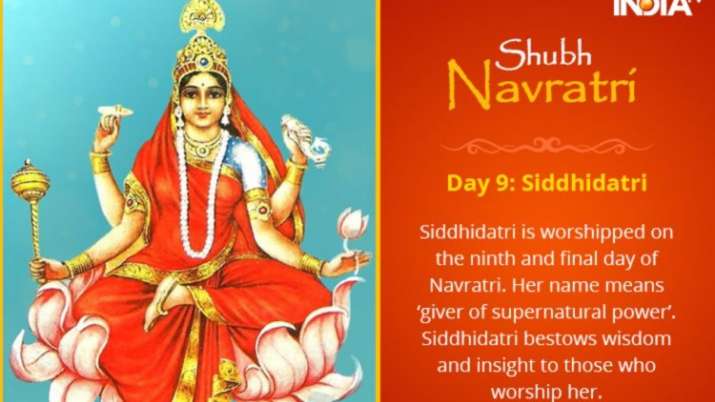 The nine-day Hindu celebration of Navratri will come to a conclusion today (October 14) with Maha Navami. Devotees worship Maa Siddhadatri, Maa Durga's ninth manifestation, on the last day of Navratri. According to legend, she has the ability to grant all of her worshippers' wishes. On this day, many people who had fasted for nine days during the festival break their fasts. They worship the god by chanting various mantras and shlokas and performing kanya puja.
The Importance of Maa Siddhidatri in Navratri 2021
Happy Navratri Day 9: Goddess Siddhidatri is honored on the ninth day of Navratri. Dhatri means provider, and Siddhi signifies meditation skill. She sits on a lotus and wields a lotus, mace, conch shell, and discus in her four arms. Mahanavami is another name for this day. According to Hindu mythology, Lord Shiva obtained all of the siddhis by the favor of Goddess Siddhidatri, which is why he was known as Ardhanareshwara because his half body was that of the Goddess.
Maa Siddhidatri Puja Vidhi, Navratri 2021
While performing the havan, the Beej mantra, such as Om Hreem Kleem Chamundaye Vichay Namo Namah, should be chanted 108 times.
While washing the small girls' feet, show them respect. Offer all the girls food that is genuinely kanya-prasadam, such as suji (semolina flour) ka halwa, poori, and kala chana, as well as a coconut and some money.
Click here: SYDNEY SIXERS WOMEN vs MELBOURNE STARS WOMEN 1ST Match Prediction
Read more about: Sanjay Manjrekar says "I would never have somebody like Ravichandran Ashwin in my team" in IPL 2021
Visit also: Wishes messages images, quotes, photos, and status for Durga Ashtami 2021